Which Are the Best iPad Apps for Architects?
19 April
In the last two decades, technology has created a wave and overhauled the way architects and designers work. From paper-based blueprints to Computer Aided Designs(CAD), it has been quite a journey.
iPad has its own advantages for architects. Creating detailed designs, and conceptual sketches, editing your work, and managing your projects has been simplified. Collaborating with your team and stakeholders have become even easier.
But as an architect, which applications should you use for your business requirements? Is there a right answer? Which software tool will help you get the most efficient results on an iOS? Let's read on to know the best iPad apps for architects.
12 Best Best iPad Apps for Architects
1. AutoCAD 360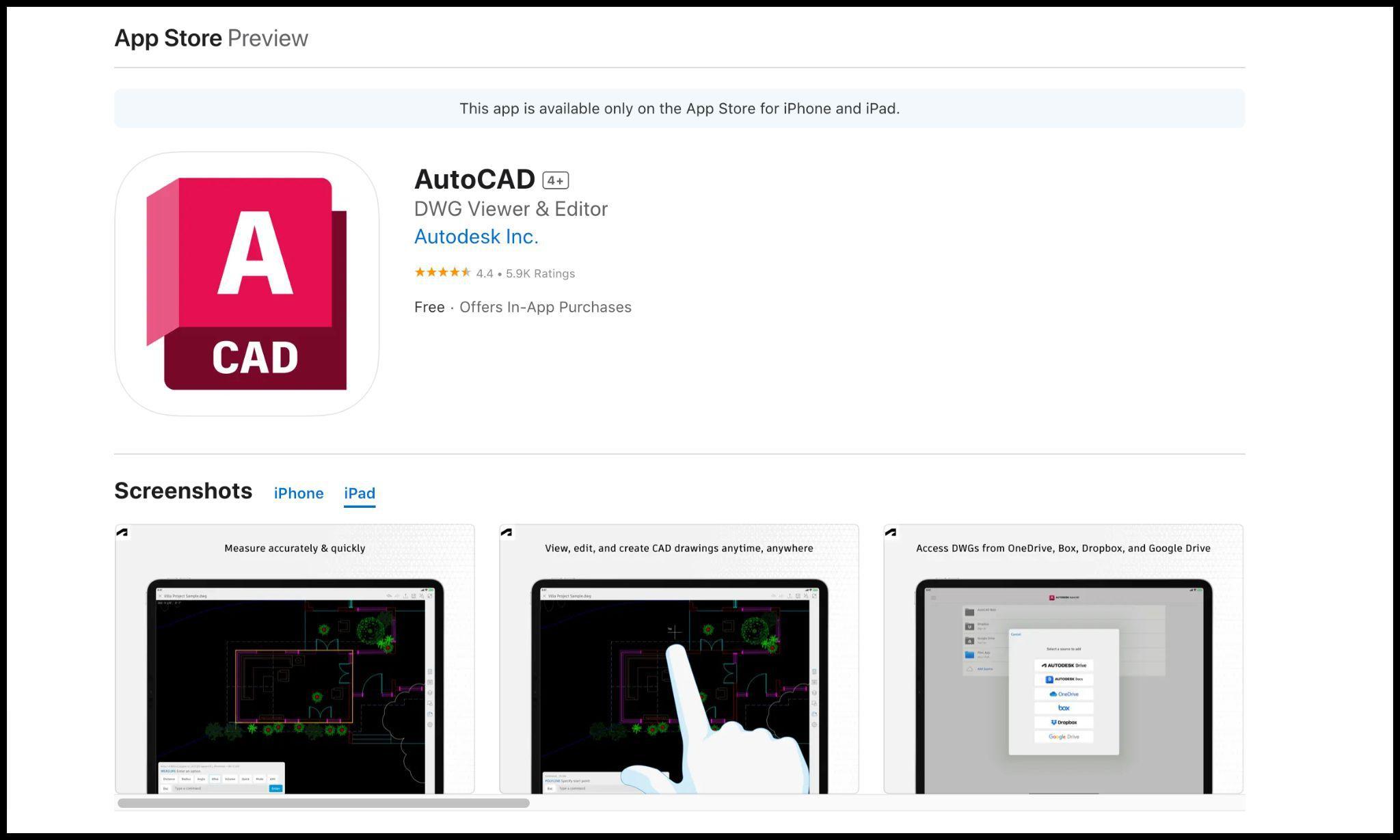 AutoCAD 360 is one of the revolutionary products provided by Autodesk Inc. You can visualize, edit, and design any of the DWG files (AutoCAD files), and 2D files on the go. It has successfully replaced the necessity of blueprints with CAD drawings.
AutoCAD has made it easier to share your drawings. You can share it with team members, clients, and stakeholders. It's easy to collaborate and make the designs efficient and faster.
With the help of Apple Pencil, it becomes faster to draw timely sketches and designs using the AutoCAD 360 app. You can create dynamic layers and toggles to fold into the sketches' different aspects.
This app is available on both iOS devices and Android devices.
Key Features
Easy access to AutoCAD and Revit
Ability to work offline and sync your changes later
Ability to view multiple layers and manage layers
Provision of markup tools to annotate diagrams and drawings
Functionality to measure distances and angles
Provision of editing tools for drawing geometric structures
Subscription Charges
Monthly: $9.99
Yearly: $99.99
AutoCAD Web annual (Ultimate version): $99.99
2. Morpholio Trace
Morpholio Trace is one of the top apps from the Morpholio company founded by four architects.
It is handy software for architects to design speedy sketches using Apple Pencil. Along with this, it provides a blend of CAD drawings precision. It allows you to sketch on top of existing images by using layers to store ideas.
You will get options to sketch the initial designs, and sketches, and add comments. Morpholio Trace makes the initial stages easier. It provides architects with the augmented reality option.
Apart from this, it also enables architects to work on high-resolution PDF drawings and annotate them. They can create initial sketches, detailed axons, and project concepts. This app advances the boundary of technology. It does so by utilizing IR and VR technologies for cutting-edge sketching activities.
This app is only available on iOS devices.
Key Features
Copy-paste feature to paste a photo in your drawing area
Functionality of layers
Advanced precision to draw perfect curves
Easy navigation ability for 3D model interfaces
Precisely aligned scaled grids
Provision of ultra-fine and fine markers for a smoother finish
Customizable architectural color palette
Subscription Charges
Basic version of the app: Free
In-app purchase
Trace Plus Subscription $9.99
Trace Pro Subscription Monthly $7.99
Trace Pro Subscription $19.99
Trace Essentials Subscription $4.99
3. BIMx
A product of Graphisoft, BIMx is an ideal app for architects for collaboration and presentation.
This app coordinates across desktops and mobile devices. It also allows architects to access ArchiCAD software to access portable files. They can use these files to tweak the design as per the requirements.
While using this app, you'll get a hyper-model feature for better navigation. This helps to easily understand the building models. It allows better integration of hyperlinked 2D documents and embedded 3D models. You can also display information on various components of the designs with this app.
BIMx allows easy access to all the members of the team. Both engineers and architects can access designs and drawings anywhere.
BIMx is available on both iOS and Android devices.
Key Features
BIMx Free
Support for virtual reality
Smooth hyperlink navigation between 2D and 3D objects
Tool for in-context measurement
Provision for updating files on the cloud
New feature - Cast Shadows
3D models with Element and Zone data
BIMcloud and Software as a Service
Provision for integrated team messaging
Printing documentation from iPad and other mobile devices
Provision to create presentations
Feature to save favorites
BIMx Pro
It includes all the combined features of BIMcloud and Software as a Service.
Subscription Charges
Basic version of the app: Free
In-app purchase
Monthly: $9.99
Yearly: $49.99
Monthly - appreciation: $9.99
Yearly - appreciation: $49.99
4. Shapr 3D
Shapr 3D has an award-winning user interface. The app has features specifically designed for iPad and Apple Pencil.
This enables the architects to draw the initial artistic sketches, before converting them into 3D models. You can use this application for precise and faster 3D modeling. It can be used with other CAD software.
Along with this, it provides a backup of your technical drawings and data, through the Shapr3D Sync functionality. This can be synced across multiple devices.
In 2018, it announced a collaboration with Morpholio Trace. Architects can thus work on sketches and models on a workflow between Morpholio Trace and Shapr3D.
This app is a multi-device app working on iOS apps and Windows platforms. It requires iPad OS 14 or later along with Apple Pencil.
Key Features
Neat and easy user interface
Easy navigation through hand gestures like swipe and pinch
Smart grids for mathematical precision
Predictive menu with auto-suggest tools
Easy visualization tools
Easy to edit any 3D model part
Subscription Charges
Basic version: Free
Pro Monthly: $38
Pro Yearly: $299
5. Arrette Scale
Arrete Scale was created by two founders. Their aim was to provide a tool to draw scale drawings primarily for architects. Urban planners and other professional designers also benefit from this.
The idea of this application was to eliminate trace paper. It focused on digital drawings drawn by hand. This app provides a smooth integration of hand-drawn designs into the digital world.
The base imitates graph paper which is helpful for architects. You'll also get extra tools to draw layers on base images. You can share the designs created in this app with a host of other relevant professionals. Share it with construction managers, contractors, owners, and others involved in the project.
This application is only available for iPad and iPad Pro.
Key Features
Precision instruments like straight and circle edge tools for drawing shapes
Measurement tools to measure walking path distances and arbitrary straight lines
Grid functionality
Ability to hide, drop, and re-order layers.
Cloud access and collaboration features
Functionality to import from Apple Maps, Photos, DropBox, and Adobe Creative Cloud.
Subscription Charges
$8.99
6. Autodesk FormIt
Autodesk FormIt provides 3D and sketching capabilities. These features can help you quickly create models at the initial stages, along with using real world information.
You can easily import any data and models to Revit. This will facilitate quicker development.
Key Features
Create models quickly with the 3D tools provided
Collaborate with your team in real-time by designing on the same model
Allows you to visualize the solar impact of heat gain
Subscription Charges
Basic version - Free
FormIt Pro - Paid version
7. iRhino 3D
iRhino 3D is a product of the company, Robert McNeel & Associates. It is one of the best digital design softwares developed for architects.
You can generate photorealistic renders from detailed designs using this app. It allows you to import and open all 3DM file format versions.
With its integrated markup tool, you can draw on top of a view. For now, however, the app does not allow you to edit 3D models. For that, you still need the desktop version, a software named Rhino.
The iRhino app, however, allows you to save 3DM(Rhino 7, and Rhino 8 formats) file format versions.
This app is only available on iOS devices and requires running iOS 16 or later.
Key Features
Display modes provided - shaded, rendered, wireframe, X-ray, ghosted, and technical
Cloud storage support for iCloud, DropBox, Google Drive, and other cloud providers.
Surface, point, and face anchoring modes with Augmented Reality mode
Textures support provided
Ability to override display settings
RoomPlan technology to create a 3D model of interior space
Subscription Charges
There are no charges or in-app purchases for this app. The app is free to use.
8. ArchiSnapper

ArchiSnapper is a field-reporting app created by Peter Eerlings. It allows users to draft reports during and after site visits. You will get several options to take pictures, photos, draft, and comment while using this app.
The app provides seamless report-generation functionality. You can start from any previous field report, by cloning the previous reports. So, you don't need to manually copy elements every time you are creating a report.
Additionally, you can customize your report's layout - logo, footer, header, picture size, font, and more. It'll be easy to impress your clients with professional-looking field reports.
Moreover, you can also add photos and texts to record observations from your iPad on-site. You can complete and tag the items with status, assignee, and more.
Key Features
Show contractors where each item is with numbered pointers
Paperless inspections
View drawings from any device
Subscription Charges
$34/month per user
With API: +$49/month
9. Magicplan

Magicplan is an all-in-one app for architecture professionals. The tool allows users to design, measure and share floor plans, create field reports, and sync all data to one location.
You can easily draw professional-looking architectural drawings and floor plans without any hassle. This app is great when there are limited resources available.
Moreover, you can sketch and measure professional-looking 3D and 2D floor plans. Use your fingers or an Apple pencil.
The app has an object library with predefined elements. You can pick elements such as windows, furniture, and more from the library. Also, you can save the ones you use the most as favorites.
While making reports, you can add photos, notes, 360˚images, markups, and more. This will reduce confusion and create a structured report. All the data which is linked to the project will be automatically structured. This will provide a proper contextual understanding.
Key Features
Magicplan Cloud to access all documents
AR technology to scan and create an accurate floor plan
Connects to Bluetooth laser meter
Subscription Charges
Free
In-app purchases
Sketch Plan (1 Month): $9.99
Standard Subscription: $9.99
Sketch Plan (1 Year): $99.99
Report Plan (1 Month): $29.99
Business Subscription: $19.99
Monthly Business Subscription: $19.99
Estimate Plan (1 Month): $89.99
Standard Subscription: $99.99
Yearly Business Subscription: $199.99
Business Subscription: $199.99
10. Procreate
Procreate provides the best drawing tools for architects to bring their ideas into drawings.
You can impress your clients and stakeholders by utilizing the features that the app provides. The app provides more than 150 pencils and brushes that will allow you to draw, color, and paint efficiently.
Architects can amplify the details using this app. Existing brushes can be tweaked or users can create their own from scratch.
Moreover, you can import reference images and work on them while it is present on the screen. With the QuickShape feature, you can get the perfect shape every time. You can draw the shape you want, and the tool will do the rest to bring it to perfection.
Key Features
Multi-touch gestures - two-finger tap to undo
Pencil filters for a professional look
Valkyrie engine and 120hz performance
Subscription Charges
$5.99
11. Polycam

Polycam is another great app that you can use on your iPad. The app is a 3D scanning app. It provides features that will make LiDAR scanning and photogrammetry easy for you.
You can scan your surroundings on your iPad and get accurate 3D models which look beautiful. This feature is useful if you want to create floor plans, scene building, architectural rendering, and more.
Moreover, you can easily generate descriptive and usable models by using this app. Polycam allows you to overlay floor plans with a LiDAR survey for detailed full-scene information. With this app, architects can export floor plans in various formats (.png, .svg and, .dxf)
The LiDAR scanning helps scan pipelines and helps users capture the entire site in 3D within minutes. Users can access the Photo Mode feature on their iPads, to get instant and quick, accurate 3D models. This feature is great for scanning scenes and detailed objects.
It even produces ready-to-use 3D assets that can be used in any computer graphics app.
You can even take unlimited measurements for free using the ruler tool with inch-level accuracy.
Key Features
Easy to use
Provides FAQs to access when stuck somewhere
Automatic measurements generation
Generates blueprints
Subscription Charges
Free
In-App Purchases
Polycam Pro Monthly: $12.99
Polycam Pro Yearly: $59.99
Polycam Pro: $499.99
12. Canvas
Canvas makes work easier for architects. With the chief architect feature, you can scan the rooms in seconds. Use the on-device 3D model to review, measure and share the space with the team.
Once the user scans the room, they can upload the scan to CAD in a few clicks. Once the scan is uploaded, users will receive a professional, design-ready plan file. They can open it in chief architect.
With this app, you can get floor plans as well. They can get key dimensions of floors, doors, windows, and more. Users have to scan them with the app, and it automatically captures all dimensions with 99% accuracy. The app's technology will extract the key measurements and provide a detailed PDF to the users' email.
Users can even capture the interiors of a structure or scene in 3D. They can generate 2D plans easily and efficiently. The users have to scan the place and upload it, and the app will do the rest.
The app sends the 2D drawings to the users' email in one day. It provides an annotated 2D floor plan in PDF and editable 2D CAD files. The files are compatible with Revit (.rvt) and AutoCAD(.dwg).
Key Features
Provides square footage of walls, floors, and the linear length of the wall
Easy to create plans
Uses AI technology
Subscription Charges
Free
Conclusion
These are the best iPad apps that architects can use. These apps will ease up your work. We live in a digital world now, and you can use these apps to create floor plans, reports, and more with no paperwork.
You will be able to keep up with technology and provide advanced reports to your clients. The reason? Because these apps will provide updates regularly.
As an architect, you no longer have to carry sketchbooks, papers, and pens. Simply fit your iPad in your bag and work efficiently.
Use any of these apps and enjoy the process without any hassle!
FAQs
Why Should Architects Use iPad Apps?
As an architect, you will have to create sketches, reports, and calculations to reach the client's expectations. Even architecture students have to create exceptional projects during their course to ace the course and graduate. iPads have the ability to increase productivity and speed up the drawing process. You can create exceptional sketches for your clients and projects with an apple pencil.
As an architectural professional, you'll need features such as report generation and estimations. Most of the new-age iPad apps for architects support these features. You can work smart by using an app. You can work on multiple projects while saving all your important information and progress on the cloud.
What Is the Best Architecture App for iPad?
There are a plethora of applications available on the Appstore for architects. We have listed some of the best ones in the market. You can select any one depending on your requirements. It's important to consider the feature that each app provides, along with the cost factor too.